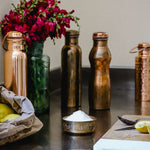 Copper is a natural metal like silver, bronze, and brass, which will naturally tarnish due to oxidation over time. This natural oxidative process happens when copper is exposed to the elements such as water and air.
Patina or verdigris is the name given to this tarnishing on copper-based metals. It usually goes from shiny copper to a darker brown with lots of varying tones and eventually will go a beautiful turquoise green colour. 
Patination is often chemically induced, used by artists to create this beautiful effect.
The famous Statue of Liberty is one of the hallmarks of the New York City's skyline. Fascinatingly it is made from copper and its distinct green colour is from this patina/verdigris without which it would be a metallic copper colour. 
Copper vessels and bottles will patina, probably not to that extent. They will more then likely just age gracefully as in the pictures below.
If you do not like the look of this 'Patina', you can polish or 'shine up' the copper naturally with lemon and salt. 
Please note that our @Coppawellness bottles and many others have a protective coating on the outside of the bottles, which gives them, a lovely shine and prevents the oxidative patina process for a while. However, this will fade in time and you will get the natural patina coming through.  It is best to wait for this protective coating to come off fully before you start the lemon/salt cleaning process on the outside of the bottles.
In the picture below you will see the new shiny bottles and then bottles where the protective coating has faded, and the natural copper patina is evident.
Any questions on this please email  hello@coppawellness.com